This started out as a joke yesterday, but then I figured — why not?
SO! I am offering a signed book from my stash of author copies for someone who can provide me with a quick cartoon-style/chibi/super-deformed sketch of this man:
standing on a pressure plate and looking extremely grumpy, while this woman:
armed and armored like a D&D rogue, skips around sticking pink companion cube hearts on him: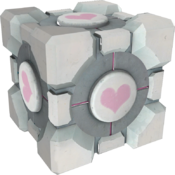 . . . because yeah, last game session my PC left the Blackjack standing on a pressure plate in a hallway to disarm a trap while she went inside to plant a magical surveillance device. Which led to jokes that he was her companion cube, a la Portal. And then my sister said she would totally draw this cartoon if she could draw, except she can't, and neither can I, but maybe one of you can! There's a signed book in it for you if you do. 😀
Originally published at Swan Tower. You can comment here or there.